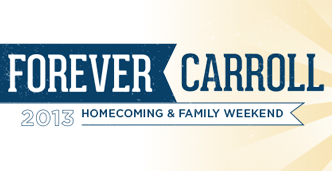 Join us Sept. 26 - 29 for a fun weekend. Kick it off early with the Cleveland Alumni Chapter happy hour on Thursday. Follow that on Saturday with the Footprints for Fatima 5K Run in the morning, the Blue Streaks football tailgate at 4 p.m., and the JCU vs. Otterbein game at 7 p.m., which is the first home game of the season. A Mass and brunch is planned for Sunday morning.



Leader of the pack
Brendan Hotchkiss '01 and his JCU business partners dig up deals with Bevdog, an online directory of happy hours and specials.




Under the Tuscan sun
The Office of Alumni Relations, in partnership with the JCU Alumni Board, is planning a trip to Tuscany, Italy (April 2-10, 2014). The tour, led by Paul Murphy, Ph.D., vice president for university mission and identity, culminates with a dinner and wine tasting at the vineyard of alumnus Frank Grace '63 in the Chianti region. More.

Murphy Hall receives a makeover
Many of us remember our days and nights in Murphy quite fondly. This summer, John Carroll began construction to modernize the residence hall. There will be more study space, larger rooms, private bathrooms, and elevators. The project is scheduled to be completed next year. More.

Pittsburgh Alumni Chapter spotlight
"In our sixth year, we're still growing rapidly with outreach and innovative events and services," says chapter president Jake Oresick '06. "We felt strongly about reaching out to prospective and current students, as well as alumni, and it's been rewarding to connect those three groups through our chapter." Follow the Pittsburgh Chapter on Facebook.