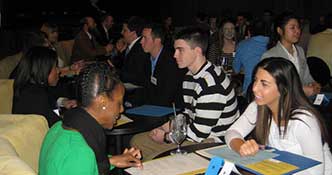 Here in the Office of Alumni Relations, we aren't just concerned with the over 40,000 alumni who are spread across the globe, but also the future alumni right here on our campus. From speed networking and financial planning sessions, to cooking classes and etiquette lunches, we have introduced new programs aimed to set up the students of today to become the successful alumni of tomorrow.

Want to see everything that we're up to? Want to help with future events? Visit us online and learn how we're supporting our students.



Passionate about hunger
Kristin (Sullivan) Warzocha '93 has spent the majority of her career helping feed the hungry.





Reaching a Milestone
Behind lights-out shooting, the JCU men's basketball team rolled to a 97-78 home win on December 10, 2014 to give coach Mike Moran his milestone 400th win.


Support our Student-Athletes
Join us for the Pot O' Blue and Gold party, a spirited evening celebrating our Blue Streaks presented by the Blue Gold Club. This year's event will be on Saturday, March 14, 2015.